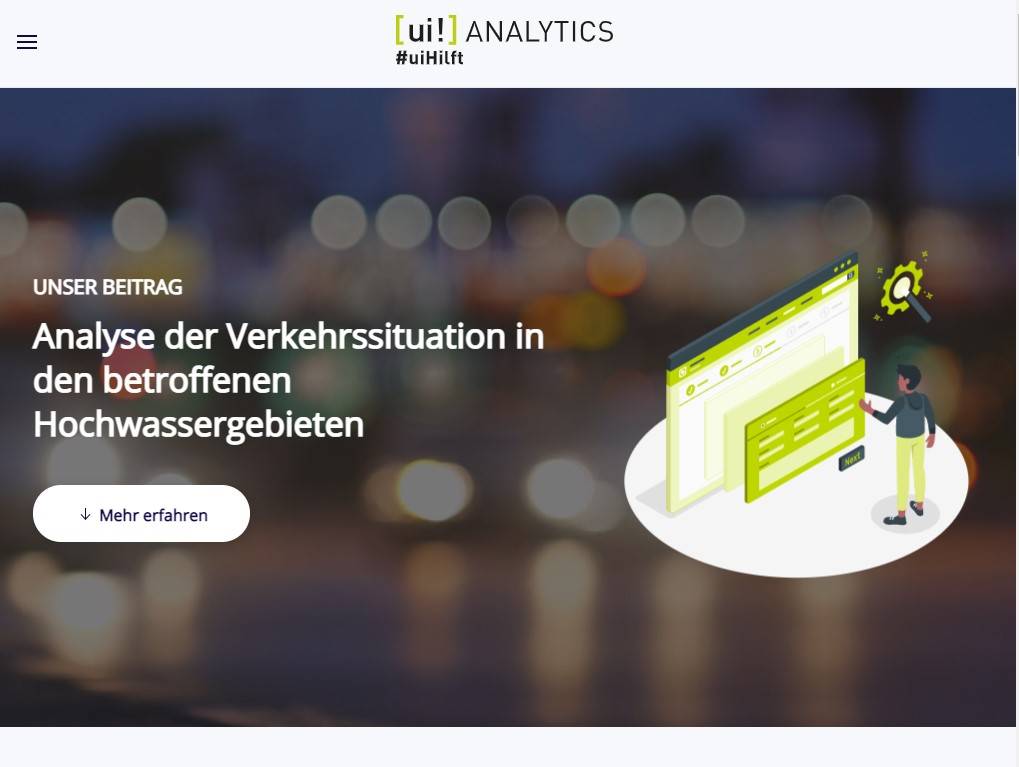 The dramatic pictures of the areas damaged by the floods have greatly affected us, our business partners and friends.
We remember the victims and want all those affected to be helped quickly.
Smart City and Smart Region is our mission and when - if not now - smart help and solutions are needed in the affected regions and the surrounding area.
We have dealt with the analysis of the traffic situation in the affected regions and provide here our data and services for the affected counties free of charge and without bureaucracy.
The damage to highways, interstates, and state roads is creating new displacement traffic, which in turn is expected to cause problems for many communities and counties, for the time being and for an extended indefinite period of time.
On the #uihilft portal (https://katastrophenhilfe.ui.city), we have examined the central hotspots in the most severely affected counties and highway sections and supplemented them with insights from our traffic and data experts. In this way, we want to provide all those responsible with an insight into the traffic situation with our analyses and update them regularly in order to pass on new findings directly.
In the hope that this information will assist in the planning and management of relief operations, and also allow for more extensive measures to control displacement traffic, we hope to contribute to the rapid reconstruction of the affected regions.
Currently, analyses are available for the following areas::
Rhein-Erft-Kreis
Landkreis Euskirchen
Landkreis Ahrweiler
Kreisfreie Stadt Trier
Kreisfreie Stadt Hagen
Landkreis Heinsberg
A1 bei Leverkusen
A61 bei Meckenheim
Please feel free to contact our experts if you have any specific questions about the analyses presented at This email address is being protected from spambots. You need JavaScript enabled to view it.
On behalf of the [ui!] group of companies and our partners, we wish all those affected a speedy return to a normal life!
To our #uihilft Portal: https://katastrophenhilfe.ui.city