In der kommenden Woche gibt es einige Konferenzen, an denen wir teilnehmen und gerne mit Ihnen ins Gespräch kommen würden.
15.5 | Tage der digitalen Technologien, BOLLE Festsäle Berlin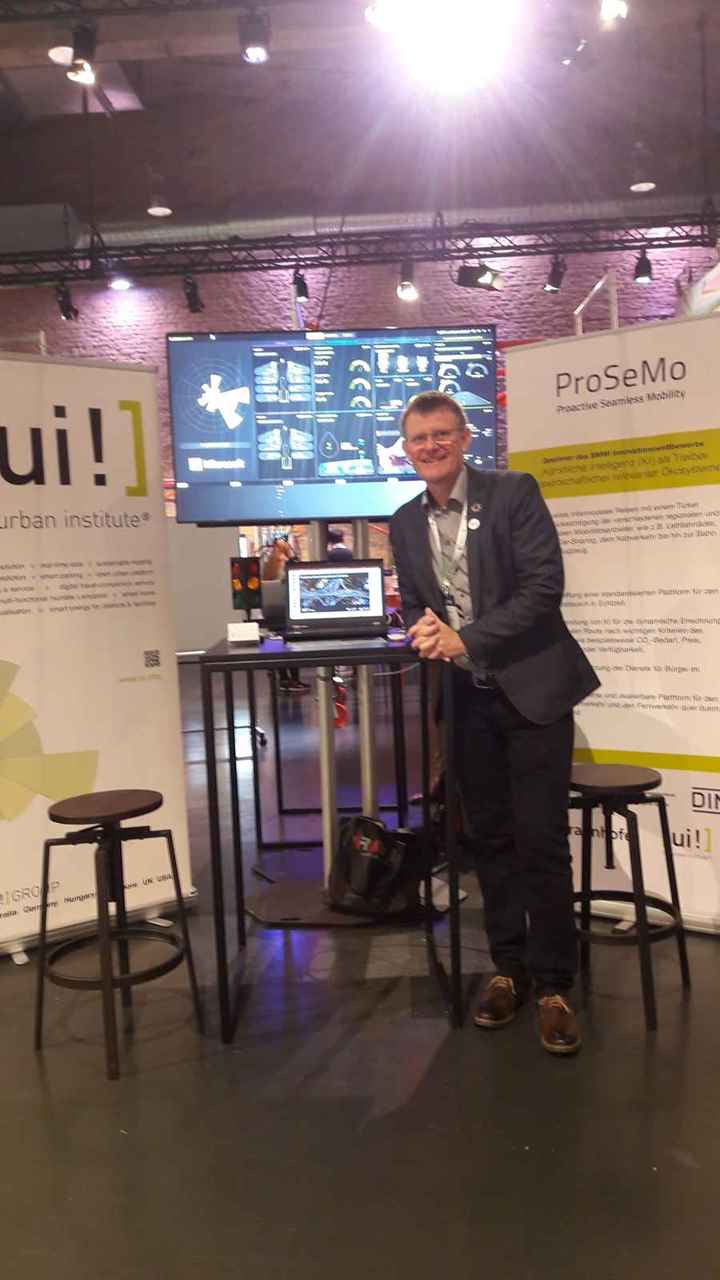 Das BMWi fördert mit derzeit rund 75 Millionen Euro jährlich über anwendungsnahe Technologieprogramme die Entwicklung digitaler Spitzentechnologien in und für Deutschland und den europäischen Wirtschaftsraum. Es gilt, Zukunftsthemen der IKT frühzeitig aufzugreifen und den Transfer von wissenschaftlichen Ergebnissen hin zu marktfähigen Produkten, Lösungen und Geschäftsmodellen zu beschleunigen. Die "Tage der digitalen Technologien" präsentieren herausragende Ergebnisse aus diesen Programmen.

Akteure aus Wirtschaft, Forschung und Politik diskutieren die aktuellsten Entwicklungen und zukunftsrelevante Themen in den Anwendungsfeldern Industrie, Mobilität, Gesundheit und Energie. Die zwei Veranstaltungstage bieten ein Forum für fachlichen Austausch und Vernetzung und sollen zur Bildung branchenübergreifender Wertschöpfungsnetzwerke beitragen.
Wir sind wie folgt vertreten am 15.5 - ab 13.20 Uhr (Programm)
15.5 - 13.20 Uhr
Innovationswettbewerb Künstliche Intelligenz - Impulsvortrag und Präsentation
Dr. Joachim Schaper, Senior Consultant " The Urban Software Institute"
Dr. Alexander Tettenborn, Referatsleiter Entwicklung digitaler Technologien, Bundesministerium für Wirtschaft und Energie
Anmeldung: www.bmwi-registrierung.de
15.5 | Keynote EAM, Bristol Hotel Berlin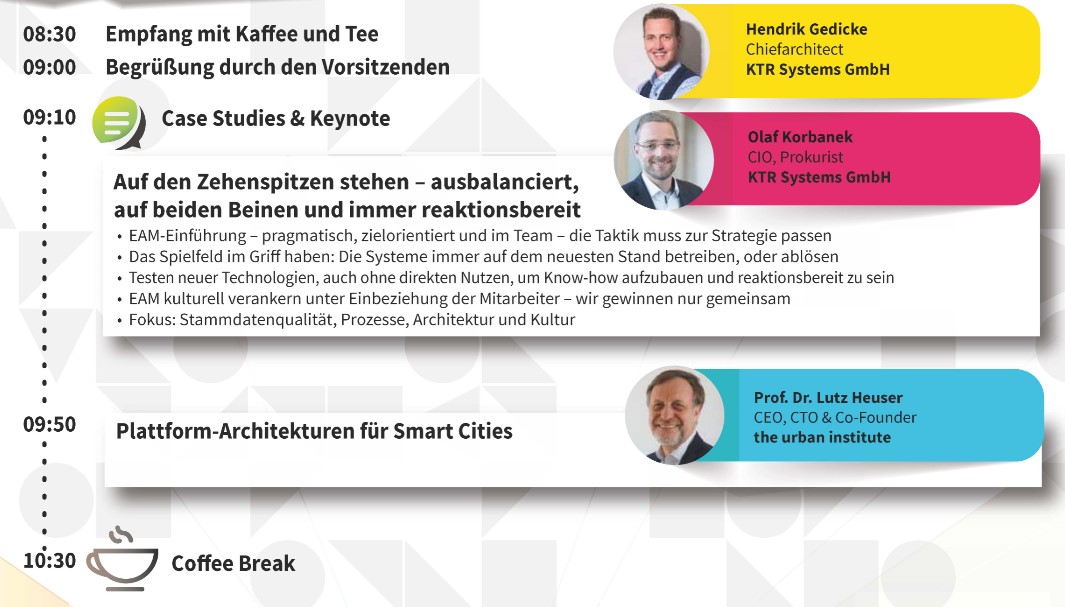 Vom 15. & 16. Mai 2019 richtet das Cross-Business-Architecture Lab in Kooperation mit Inside Business die bestbesetzte EAM-Konferenz des Jahres aus. Die Veranstaltung findet unter dem Titel: "EAM – Richtungsgeber für die Digitale Transformation" im Hotel Bristol in Berlin statt.

Die zweitägige Veranstaltung ist multiperspektivisch angelegt. Sie offeriert die Erfahrungen von Digitalisierungsverantwortlichen, CIOs und Enterprise-Architekten. Die unterschiedlichen Betrachtungswinkel öffnen den Blick auf die wichtige Rolle von EAM in der Digitalen Transformation. Die Veranstalter sind stolz, auf der Konferenz sowohl sehr gute EAM-Experten als Sprecher begrüßen zu dürfen als auch CIOs & CDOs von namhaften Unternehmen und Behörden. Das zeigt den zentralen Stellenwert, den EAM heute in Zeiten der Digitalen Transformation hat.


Infos: https://inside-business.org/eamdigital2019
15.5 - 16.5 | SAP Public Sector Day, SAP SE Walldorf
Ob Behörde, Sozialversicherung oder Hochschule – öffentliche Dienstleister stehen heute vor vergleichbaren Herausforderungen. Sie alle streben nach mehr Bürgernähe, Effizienz und Agilität, kurz: Zukunftssicherheit.

Im Mai 2019 begrüßen wir Sie daher zu einem gemeinsamen SAP-Infotag für die öffentliche Verwaltung, Sozialversicherungen und Hochschulen. So können Sie sich direkt mit Fachkollegen austauschen und neue Anwendungen kennenlernen, die sie im Einsatz haben.

Unser Themenschwerpunkt ist die intelligente Organisation. Denn intelligente Technologien bieten heute völlig neue Möglichkeiten, um Prozesse zu beschleunigen, Mitarbeiter zu entlasten, flexibel zu kommunizieren und proaktiv zu handeln – für den digitalen Wandel im öffentlichen Dienst.
Panel am 15.5 mit CEO Lutz Heuser
Infos: www.sap.com
16.5 | General Assembly EIP SCC, The Albert Hall Complex, Chaussée de Wavre, 649-651, B-1040 Brussels
The 2019 General Assembly will offer a unique opportunity for Smart city actors to exchange best practices, present projects, find partners, and stimulate discussions helping the development of innovative ideas.
The purpose of the 2019 General Assembly is to build on last year's General Assembly, which – for the first time – created a matchmaking space where promoters can present their projects and find partners to make investments while exchanging and disseminating best practices in the main sectors producing services for urban communities.
Infos: https://eu-smartcities.eu/events/eip-scc-general-assembly-2019